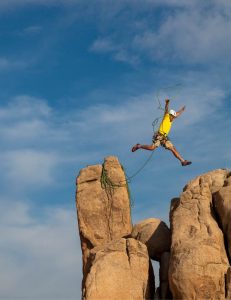 This is a great time to reflect on the amazing things that happened over the past year and set our sights for the year ahead.  As we took a nostalgic look back, one of the most fascinating observations that we made at EDGE 3 was how embracing fear can sometimes catapult us into the next level of accomplishment.
On May 13th of 2013, we witnessed Chris Hatfield return safely to our planet after clocking 62 million miles and spending 146 days in space.  The last thing that we expected to hear was that this brave astronaut had a fear of heights!
After 129 days at sea, capsizing 10 times and facing waves of 10 meters, Mylene Paquette became the first North American woman to row solo across the Atlantic Ocean.  After completing the journey on November 12th of 2013, she spoke openly about her fear of the water.
Inspiring stories, but what does that mean for the rest of us?  The first step is to take a good, close look at what makes you fearful.  Step two is to consider what opportunities are available to you, and which ones you want to take advantage of.  The third step – and most importantly! – ask yourself what strengths can you leverage that will both combat your fear while taking advantage of the greatest opportunities.
Perhaps Nelson Mandela said it best, "I learned that courage was not the absence of fear, but the triumph over it.  The brave man is not he who does not feel afraid, but he who conquers that fear."
What would happen if YOU were to embrace your fear?
How would it change things?
How would it empower you to take on other challenges in your life?
Step bravely into the New Year, Friends!  Stay curious, focus on your strengths and never doubt your ability to surprise yourself by accomplishing things you never thought imaginable.  To our clients at EDGE 3, we would like to thank you for stepping bravely to the EDGE of your comfort zone; we look forward to another remarkable year.