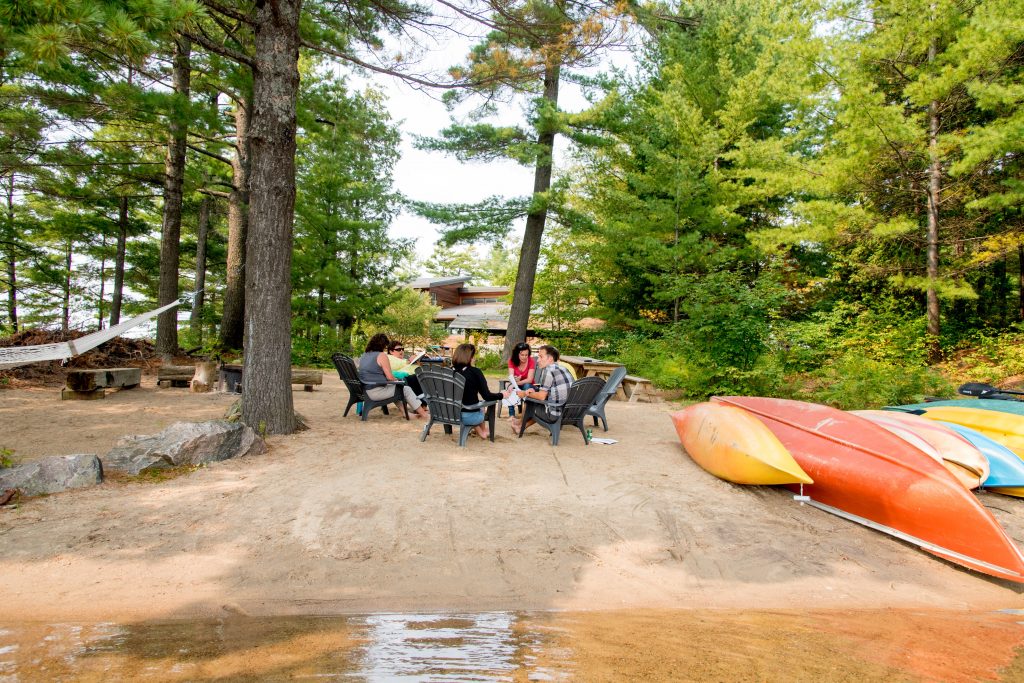 We love nature. I mean LOVE nature. Have you heard that already? Well, it's because it's true! Whether it's a walking meeting around the block, a park bench coaching session, a hike while brainstorming, or an island retreat in Muskoka, we LOVE trying to activate an element of the outdoors.
That's why we're always so excited to hit Muskoka each year for a series of Fall retreats, to spend time transforming in such a beautiful space, during such a transformational time of year.
It feels like 'the ultimate' in inspired places for us to work with others, and it's fair to say that our guests feel the same. It may sound cliché, but the reality is that people found themselves moved to action from the cues nature gave them. Here's some examples:
Setting intentions around a large compass to articulate the direction of the day
Letting go of our obstacles at the evening fire
Cleansing plunges into the lake
Listening to the winds of change, and what they may be whispering
Grounding one's self like the surrounding trees
Meditative walk barefoot over the various terrains on the island
Enjoying a sunset, and visualizing what the next day will bring
While we'd love EVERYONE to join us in nature for an event or retreat in future, there are always ways to achieve this in everyday life. We just have to be intentional about it. Elemental and sensory touchpoints lifts people and enhances experiences, so carving out time to get into nature is a sound (AND FUN!) investment.
Setting the stage for change is important. Whether it's a small shift in thinking, or majorly impactful decision making, an office doesn't always lend itself to the level of thinking, feeling, openness, etc., that one needs… or deserves!
So ask yourself,
"If I'm inspired to create space inside myself to grow, how can the space around me be more inspiring to support that growth?"
We'd love for everyone to experience first-hand what we're talking about. (Or call us and we'll set-up an EDGE3 date!) But in the meantime, look for opportunities to get into the spaces that inspire you to think, feel, share, develop – WHATEVER! – the way YOU ultimately need to.
Devon Domanski plans dynamic client workshops, team building and appreciation-themed events. She feeds her curiousities with writing, food dreaming, and adventures in all things beautiful.