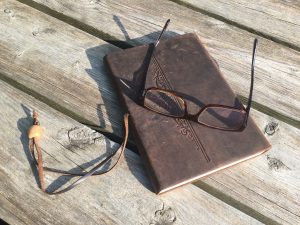 Typically, when we meet with new clients, we provide journals and some thought provokers to help encourage the first step in the self-discovery process. In our EDGE3 blogs, I've talked about the journaling I do. I've found that not only does journaling help me get my thoughts out and to reflect on things, I also refer back to it for a variety of reasons: for inspiration, when goal setting, and to gain clarity or a shift in perspective. This makes my journal a helpful tool—a map of my thoughts, if you will.
So, how do you get started using a journal as a support tool for your success?
The first step is to pick a time during the day when you won't feel rushed. It could be before bed or perhaps in the morning – whatever works for YOU.
Next, choose a comfortable location and surround yourself with some of your favourite things; a soft blanket, feel good music, maybe a great cup of coffee, tea or a glass of wine.
And now it's time to dive in. If success is your focus, take a break from your "To Do" list, and take a look at your "What I've Done" list! Examine your what's worked well in the past, and build on the momentum.
Here are some thought provokers to start your journey:
STEP 1: DEFINING SUCCESS
• What's my version of success?
• Who are my heroes & role models?
• What are the traits that I admire in the people I respect the most?
STEP 2: LOGGING YOUR ACCOMPLISHMENTS
• What personal traits make me proud?
• What was my proudest moment?
• What have my big achievements been to date?
STEP 3: RECOGNIZING THE PATTERNS
• What skills have contributed to my success?
• Where have I been most successful?
STEP 4: DREAM BIG!
• If failing weren't a possibility, what would I do?
• Where do I want to be in 6 months? 1 year? 5 years?
STEP 5: LETTING GO
• What's holding me back?
• What do I need to let go of to move forward?
STEP 6: START NOW
• What is one small step that I can take today?
Committing time to check in with yourself and to record your thoughts will help you to fine tune and focus toward the goals you set for yourself.
Need a hand with the process? We have a complimentary EDGE3 journal and a ½ hour coaching session for the first 10 people who contact us.
Happy Journaling!