Listen to the audio version by pressing play below
I'm excited to share with you, that we're back for another "Adventure Inspired by Love!"
Last year, I created Team Nicole to raise money for cystic fibrosis research. The stakes have been raised this year, so instead of raising money for research, we've created a GoFundMe campaign to raise funds directly for Nicole.  100% of donations will go into a trust fund for Nicole's treatment plan.
But first, let me back up…
Nicole is my niece. She's a talented singer and artist, and a brilliant student. She lives with pain every minute of the day. Her family has rallied around her in many breathtaking ways. This has been a particularly challenging year for her with extensive medical costs and a potential transplant surgery on the horizon. To ensure that Nicole is given every fighting chance, this year is for her!
With a team of support, I will cycle, swim, and hike 212 km from my home in Muskoka to Nicole's house in Aurora. I've invited friends and family who will join me along the way.
As I've put in kilometers of training, I've become aware that this is unlike any other goal I've set. The distances melt away, and the aches and pains dissolve. Any time I get distracted by my own small discomfort, I think about the love for my family, how hard they are all working, and how much I want to contribute to their well-being.
I'm honoured to be able to do this, and I would be honoured to have your support. It truly takes a team!
You can support Team Nicole by:
Sponsoring us on our GoFundMe page
Following the adventure on social media
Learning more about life with CF
Offering words of encouragement!
Your support means the world to me!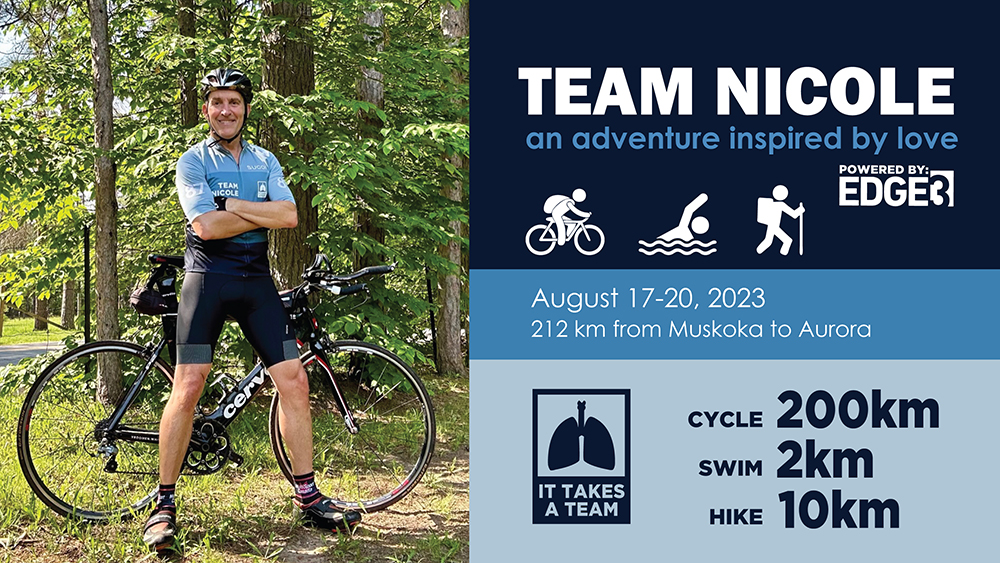 "It's kind of surreal to see people supporting your cause, because essentially they're supporting your life." In this short documentary, CF Champion Tara Bourque is sharing her journey living with cystic fibrosis.

Ready to have a blast this summer and let down all your worries? Get ready to create an unforgettable summer experience without breaking the bank with these insanely creative and fun summer activities for adults.