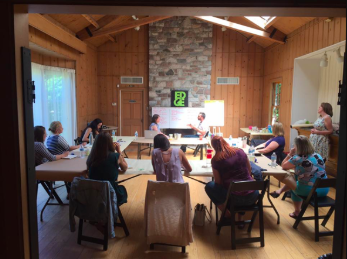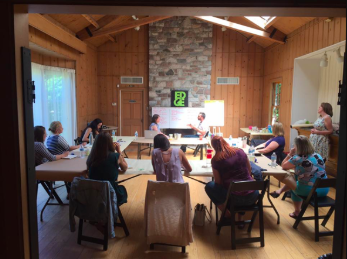 I find it inspiring when a leader steps out the boardroom to ask some brave, bold questions.
How can I be a better leader?
How can I serve the team more effectively?
How can I bring out the best in others?
And when confronted with those questions I say, "Hell ya, let's dig in!"
This past week, the EDGE3 Team spent a glorious day at Gairloch Gardens in Oakville with a variety of leaders for our "Coaching For Leaders" program. Our secret sauce for exploring leadership potential is powerful content and thought provoking questions in a nature-inspired setting. Albert Einstein said it best, "Look deep into nature and you will understand everything better," and this is exactly what happened with this special group of leaders.
We were surrounded by lush gardens, blue skies and flowing water, and the setting helped take the group's thinking to a whole new level. Time in nature clears our pre-frontal cortex from the complexity of our day to day lives and unleashes our thinking to newfound possibilities. Yes, there is a science behind our brain on nature, but there is also an unspoken magic that we can't quite put our finger on. We asked the leaders their thoughts on nature and coaching and here's what they said…
When I am close to water, it reminds me to go with the flow and not be as rigid
As I sit under the trees, I feel connected and a more grounded version of myself
The sun helps me focus on positive thoughts and illuminates the path ahead
Being outdoors somehow activates my altruistic and empathetic side
Under the open sky I feel the limitless possibility without feeling the roof over my head
Reflecting by the water brings an inner peace and distills the learning from the day
So, it appears that nature can be our greatest teacher and can lead to a greater sense of confidence and clarity; two of the most important components of being a great leader.
Unclear about your next steps as a leader? Coming soon we'll repeat "Coaching for Leaders" and we'll be launching Part 2 as well. Location is to be determined, but rest assured it will be a beautiful outdoor setting and they'll be some tough questions along the way!
Drop us a line to find out more.