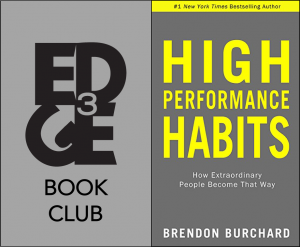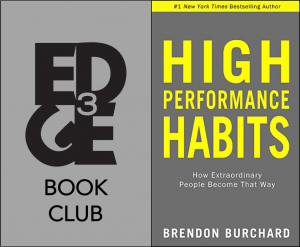 Got a High Performing Team? Here's a great book to elevate their game.
As part of the leadership development package that we offer our clients we design workshops using the best personal development books on the market. It gives teams great new skills and it serves as a bonding experience to create greater team cohesion.
A team that learns together, grows together
The latest book that we have shared with our clients is High Performance Habits by Brendon Burchard, who has been coaching high performers for over 20 years. He explores questions such as: "Why do some people accelerate their success more quickly and are able to sustain it over time? Why are some happier during the journey towards mastery? And what motivates them in the first place?
His findings? High Performance is not linked to a typical type of person, but rather to a specific group of habits—6 as a matter of fact. These are: Clarity, Energy, Necessity, Productivity, Influence, & Courage. Ongoing commitment to each of these habits drives performance and puts us in the right frame of mind to get there.
"Live. Love. Matter." – Brendan Burchard
If you are asking yourself, "Where do I land in on the scale of High Performers?" go online and take the quiz @ HighPerformanceIndicator.com
Here are the HP6 and some context from the author:
Seek Clarity: "It's about how you think about tomorrow and what you do to stayed connected with what matters today."
Generate Energy: "To stay on your A game, you'll need to actively care for your mental stamina, physical energy, and positive emotions in very specific ways."
Raise Necessity: "It's about always knowing your why and stoking that fire all the time so you feel the needed drive or pressure to get at it."
Increase Productivity: "High performers are more productive and yet also happier, less stressed, and more rewarded over the long term."
Develop Influence: "Influence is not about feeling like you are giving more than others; it's about feeling like your efforts are making an impact."
Demonstrate Courage: "Express your ideas, take bold actions, and stand up for yourself and others, even in the face of fear, uncertainty, threat or changing conditions."
Reading these, you may find yourself a little overwhelmed. Our coaches can facilitate a workshop or provide you with a learning guide to help you and your team to focus on one habit a time and break it down into an action plan.
Here's one final word of advice to high performers. Avoid falling into the "never enough" trap. Burchard reminds us to shift our focus from "How do I achieve more?" to "How would I like to live?"
Strive towards a bigger, bolder version of yourself, but let the joy of the journey
be part of the goal.