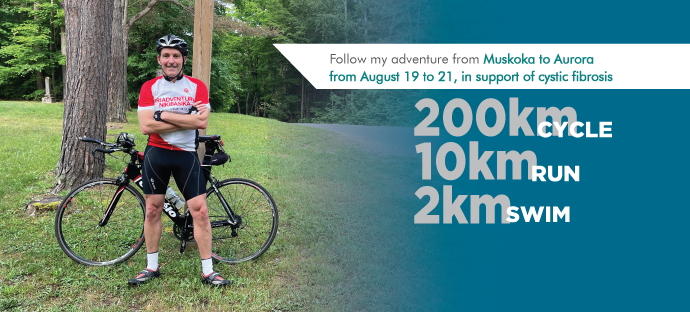 An Adventure Inspired by Love
I adore my niece Nicole. She is a 20-year-old university student and talented singer, but this has been a tough year for her. She has Cystic Fibrosis (CF) which is a fatal disease that affects her lungs and digestive system. Health complications and chronic pain have been an ongoing battle.
I often feel helpless. Lately I've been asking myself, what can I do? Then I had an idea.
I've been blessed with the gift of energy, so I've decided to cycle, swim, and run from my house in Muskoka to Nicole's house in Aurora – door to door. I've invited friends and family who will cycle, paddle run or walk along the route.
This is about raising money, but it's also about connecting people. I can only imagine the absolute joy as we unite in one big outdoor adventure inspired by love.
The distance is feeling a bit daunting, so I am being patient with my 57-year body. With every pedal, stroke and stride I think of the many physicians, scientists, friends, and family who support Nicole – it truly takes a team.
You can support "Team Nicole" by:
Sponsoring us at this link
Following the adventure on social media
Offering words of encouragement!
Your support means the world to me!