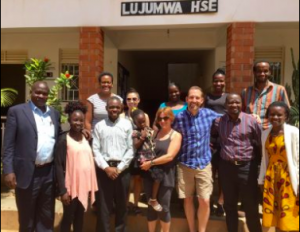 Since I was a kid, I've dreamed of visiting Africa. Couple that with my 7-year involvement with the TriAdventure and Nikibasika Learning Development Project, Uganda became a must visit stop on my bucket list. I could hardly wait!
One of the first experiences that we had arriving in Uganda was a Team Coaching Session with the KIBO Foundation, a company focused on developing leadership skills and unleashing the capacity of their youth. As an organization that supports many of the kids from Nikibasika, we are big fans of the work that KIBO does and were happy to support them in their growth as a team.
I partnered with Cate Creede of the Potential Group and Bonnie Ho, this year's chair of the Triadventure, to facilitate a workshop on Fearless Leadership.
Feeling a little anxious about the experience, I mentioned to EDGE3's Devon Domanski that I was curious to understand their challenges and how they may be different than the teams we work with in Canada. She said, "When you're there, I encourage you to notice not how different the challenges are, but how similar they may be. What connects you?" A very wise colleague indeed… she certainly provided with a scope that shifted my perspective.
KIBO was an impressive team, indeed. Like many small business, each player must wear many different hats and to remain extremely agile in their approach. I was inspired by their respect and care for one another, their ability to approach challenges creatively and by their unwavering commitment to serve and commit to a common goal.
So, what did the team walk away with from our session? An impressive strategic plan cranked out in record time by Cate Creede…nicely done, Cate! And in the spirit of coaching, they seemed to have a renewed confidence in themselves and an awareness that the answers have been within them all along.
Go KIBO! Continue to inspire young leaders in Uganda; we are rooting for you.